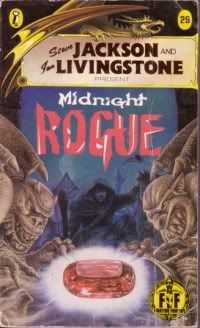 So I skipped past Midnight Rogue 15 or so books ago 'cause I didn't have a copy, and referred to it then as "fondly-remembered". It's perhaps unfortunate my copy arrived in the mail this week, coming right after the much-lauded font change and the excellent Legend of the Shadow Warriors. Why? Because from one reading, I get the impression Blacksand deserved more.
I distinctly remember the
*twist*
ending from childhood, and despite this found the mission a little... serious. It was great the book gave you new skills and a limited inventory for sure, but compared to the freedom to wander that has emerged in comparatively recent
FF
entries,
Midnight Rogue
feels a little forced.
So anyway, you're a prospective member of the thieves' guild, a reasonably overground-sounding operation for a relatively underground-ish trade, even recognising this is Blacksand, after all. You're assigned a mission to retrieve some kind of jewel, perhaps even the one on the cover so lusted after by inanimate stone gargoyles, but who knows.
First off I decide to hit up the Merchants' Guild, considering the intro suggests I visit the merchant Brass, who apparently has the object of desire. His symbol is a coin, so when I'm soon given the option of trying the door with the coin or that of the fish, I choose the coin. I'm here to get the prize, not
find Jesus
. 
Getting into the guild HQ is a mission in itself. There's not only a guard so corrupt I can't pay him off, but
tribbles
. Except here they're called jib-jibs, there's only one, and it has a skill and stamina I can count on however many fingers it is I need to insult you in whatever country you're in. 
Once into the merchants' guild, there's a beggar - further proof the
credit cunt
is hitting even those stuck in medieval fantasy gamebooks - he gives me a skeleton key set I don't need, and through a series of situations where I'm not given the option to leave or even knock, I get into trouble and am arrested. 
It's not written into the game script, but thinking logically, so many of these situations could have been defused by a simple knock first. I know I'm a thief and all, but hey. Common sense?
On this play through, I can't say
Midnight Rogue
lived up to what I'd expected, though I'm not sure that's fully down to the fact it's not that good - it could be that it's just not as good as the 40s bunch of books, or that I took the wrong routes. Wandering through Blacksand has to be one of my favourite things to do in
FF
, and this just didn't pull it off for me tonight.
A little disappointing considering how much I was looking forward to it, but worth a shot definitely.