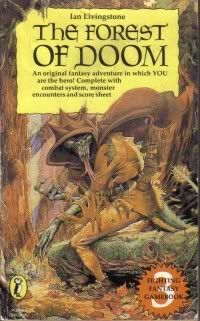 What I learned from
my last playthrough of Forest of Doom
:
1. If my skill rating is higher than my luck rating, do not eat the mushrooms. If it's lower, then eat the mushrooms. Just pretend for a second my in-world character is both a doctor and an astrologist, and is able to tell at which he excels.
2. If I find an enchanted sword, ignore the stupid rule that doesn't let it take my skill over its initial value - pretend it's just a +2 attack strength sword, and use it to give Ian Livingstone -2 testicles.
3. Don't fight things that look like dragons, even if you have an enchanted -2 nuts sword.
So as we all know, the aim of
Forest of Doom
is to find the two pieces of a sacred dwarf hammer. In the introduction, your character, camping out in the great outdoors, is awoken when a dwarf with the ironic name 'Bigleg' is shot with a pair of crossbow bolts. Instead of freaking the fuck out and getting the fuck out of there, you apparently get the guy a blanket and a drink and sit him down, listen to his final words - find the hammer, etc - as he breathes his last breath, then rob him of 30 gold pieces.
Only then does it come to mind to find this hammer and avenge his death, but not before a bit more shut-eye. It's not like that dead dwarf needs the blanket anymore, is it?
So, I get to Yaztromo's, again resisting the temptation to use my epic skill of 9 to cut him down in the first paragraph, and buy some of his wares - nose filters, of course, and a headband, 'cause they're funny, plus the obligatory rope, boots of leaping, etc. It's a forest, so insect and plant control potions could come in handy.
I wish he had a Potion of Wyvern deathness, considering my last attempt, but alas.
Onto the forest! I head east, and am accosted by a talking crow, which will give me "advice" for 1GP. Cheaper than a lawyer I guess. He tells me to go north, and that he needs 30GP to pay Yaztromo to turn him back into a human again. But he's a talking bird! I could go back to Yaztromo, ask him to turn me into a talking bird, and be done with this book forever, 'cause no page 400 is going to beat that.
But north it is. I come across a slimy, dark hole in the ground, in which I find a sting worm (quickly dispatched) and a mystery liquid. I quaff it - and it gives me a +1 attack strength bonus in my next two fights - something not even an enchanted fucking sword can do.
Mental note: always drink mystery liquids found in slimy holes from now on (this mental note only applies to
FF
gamebooks).
The next hole in the ground, described in the book as a cave, features an ogre who can't even handle being hit on the head with a rock. His captive, a weak and soon dead goblin, is wearing the hammer handle on a necklace! Sweet! There's also a mystery box here containing a toxic gas, but I have nose filters, so I'm all good. I'd also be all good if I just held my nose with my fingers, but I guess people didn't do that back in the day? Or I had -2 fingers.
Next on my agenda is to literally climb a tree just to kill an "ape man" and steal his bracelet, 'cause you know, that's just the kind of guy I am. Apparently.
Further up the path, I meet a centaur whom appears to have an impressive amount of pubic hair, but it's actually the bushy end of his tail, strategically placed to ensure I didn't mistake him for a young boy. I'm sure they didn't think of these things when they were doing the art back in the '80s.
I "bid the Centaur good-day", and he responds likewise. It is allegedly "pleasing to meet somebody who is not attacking [me] on sight". 'Cause the "ape man", the ogre, the goblin, the hobgoblins (did I mention them? No? Okay, there were hobgoblins. And evil grass) and sting worm were just begging to be murdered, weren't they?
He offers to carry me across the river in exchange for gold, which is generous. I'd pay gold to just to say fuck yeah, I rode a CENTAUR, but he's actually going over and above that and offering to get wet and take me somewhere. What a great dude. And since he's naked, I'm kind of glad he's not a young boy.
Now it's night, time for a sleep, and this time I'm not woken by a wyvern, but a giant spider. Kill it, sleep off the rest of the night, eat two breakfasts to restore my stamina, and onwards north it is.
Since I began the adventure by heading east, I guess the other part of the hammer will be further westward, so start inkling that way. I briefly lose my page, causing my character to undergo great confusion - "WTF, a dragon?! Two orcs!? A dude showing me his bicep?!" before coming to his senses and finding a well. I chuck a gold piece in, wishing for more gold, but nothing happens.
So I climb in the well, but miss a rung and fall... losing 2 stamina for the "deep cut on [my] forehead". All of 2 stamina. I apparently "curse", I'm guessing something like, "Fuck yeah! A bed of paper! All I got was a paper cut!"
After crawling through some tunnels,I find a couple of goblins I'm going to assume are up to no good, 'cause I'm gonna kill them and it feels better if I just assume. They've got gold and clay models of human hands, which has to equal cheese as the strangest thing I've ever picked up in a
FF
book. Cheese isn't weird in itself, it's just a strange thing to carry on an adventure in the days before refrigeration.
More crawling through subterranean tunnels brings me to a gremlin smashing clay models of human hands (WTF is going on here?) with a hammer. A HAMMER. But it appears to have a handle, so what do I care? Well, I don't have a choice. The book of course forces me into more murder.
My character then takes his medallion, 'cause it's made of shiny gold, but takes no interest in the hammer. At all. Not even to check if the handle was a fake.
More crawling, and I'm soon stabbed right in the thigh by another gremlin - with a cardboard dagger I'm guessing, since it did all of 2 stamina damage. I kill him, and find he's hoarding a "gold ingot" worth 28GP, but so heavy I have to drop something else in order to carry it.
Goodbye, used nose plugs.
Out of the pit (see what I did there?), and westward I find a hippie sleeping on a mushroom. Being the dick I am, I wake him up, and he agrees to help me if I give him 5GP - and for this crime, Livingstone calls him "the greedy gnome". Yesterday, I broke into a guy's home - he lived up a tree, so it was hard - just to steal his bracelet, and the
gnome
is greedy?
I break a piece off the ingot worth 5GP, and he tells me there's a dead goblin in a crypt up north. Okay, he is greedy.
I find a stone building with steps going down to where's there's a stone box and a candle, which surely is a crypt. Unfortunately, Livingstone only gives me the options of leaving, or lighting the candle, despite the fact I can already see there's a goddamn coffin.
But I don't have any Dust of Levitation, so... FFFUUUUU this better not be the crypt the greedy Maharishi spoke of.
I'm forced further north, right into the path of the fucking wyvern. AAARHRAGHGHGHGHHH! But I have a brass flute, which somehow I know puts wyverns to sleep! "You have a strange feeling that you must play it now." Ah, the famed Flutus Ex Machina! I wish every gamebook had one of these. (I just googled 'flutus' and realise that's not actually Latin for 'flute', it's, err, the term for a musical fart. Again, I wish every gamebook had one of these.)
I find in his lair a gauntlet and a ring, but you know, I'm not looking to defeat a magical creature am I? I'm just after a hammer. I don't need to risk wearing this shit.
North, a gang demands five items from my backpack - my choice - in the most illegal game of lucky dip ever played. Fortunately, I'm told to "treat all the items... as single objects, including each Gold Piece".
So I hack off another piece of the ingot, and hand it over. Broken into five pieces, of course.
Then I'm out of the forest, and fuck, it's taken ages and I only have one piece of the hammer. I can't be arsed going back around again!
So in real life I went to bed, got up, ate two breakfasts to restore my stamina, went to work, worked on some new songs, picked up my boy from daycare, cooked and ate dinner, had a bath, helped the wife attach some hair extensions and ripped some old CDs into iTunes, then sat back down again for another go at Darkwood Forest. While I was doing all these things, my dude for some reason was wandering back around the outer edge of the forest back to where he came in, instead of just turning around and walking back the way he came.
Bad idea, 'cause he's
ARROWED
to death on his way around. Yep, I sat down for a second night with
Forest of Doom
, only to be spared by a test of luck.