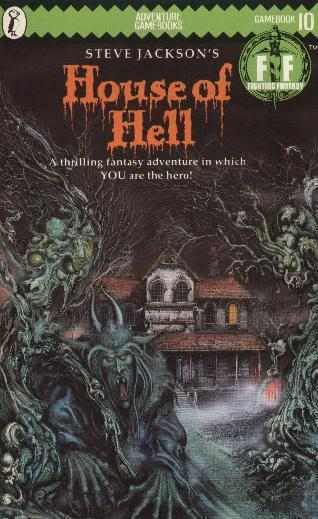 This is the only Fighting Fantasy gamebook to be set in modern times, at least in the mid '80s when it was published. Your car breaks down on a stormy night, and the only house in walking distance is the titular House of Hell - only this time it's not populated by Transylvanian cross-dressers, instead it's full of demons and ghosts and strange weirdos of all sorts (who, as far as I know, all keep their clothes on).

Oddly enough, despite its modern setting, or perhaps because of it, the entire premise is now badly dated - we'd now have a cellphone handy, right? Or could wave down somebody who did, surely.

Anyway, I wandered up to the door, used the knocker, and a butler arrived. He told me the Master was 'expecting' me, and we both went inside. The book doesn't give the option to query this rather strange introduction, so ah well. Lets assume the '80s were a simpler, more innocent time.

I made some small talk with the master, then laid into his white wine - which turned out to be laced with the strongest aspirin known to man - once again, the '80s must've been a simpler, more innocent time, as one hit was enough to knock me cold. Is there pseudoephedrine in aspirin?

Tied up upon awaking, I broke a window and used the shards to cut myself free, and wandered into the hallway. The doors all had plaques on them reading things like 'Balthus Room' and 'Diabolus Room', nto particularly inviting, so I wandered through hallways and whatnot before coming across the front door.

Woah, easiest FF book ever, I thought.

I opened it, and saw a hideous monster that looked like a hippy crossed with a goat-headed demon thing, and almost frightened myself to death. That's something this book has that other FF books don't - a fear score. My ability to absorb fear was minuscule, another reason I stayed clear of doors as often as possible. There's this pic in The Warlock Of Firetop Mountain that always used to freak the crap out of me in real life, let alone the game. I can't find it on Google images, but trust me, this aged old man leaping at you carrying a club or something is an image I'll never forget.

I ran away, and was forced to choose between two doors - one was locked, so no longer with even the hint of a choice, I entered the room... and found a kitchen, with some keys. Sweet! I grabbed the keys, and got burned, literally. They were red hot! The noise created when I dropped said burning keys attracted some 'mysterious friends' of the Master, who weren't so mysterious as evil. They dragged me down into a dungeon of sorts, where ended my adventure.

The very first door I tried.

Sorry I can't report too much more on House of Hell... it seemed interesting, if a little dependent on just choosing the right doors - particularly with a low fear score like mine. I was four sevenths of the way to being frightened to death before I even opened a single door! Another site suggests the book is so difficult, some parts which lead to certain death are required to go down in order to find out information you need later on in a successful attempt. Hmmm. Others suggest it's just really, really hard and requires an almost perfect run of events. Hmmm.

Seems interesting though, I'd recommend giving it a go, but don't drink the white wine. I think.

My version is as above, but hellishly worn - it seems an entire generation of people have tried it out, haha. It has a stamp for Swanson School Library inside. I wonder why they got rid of it?