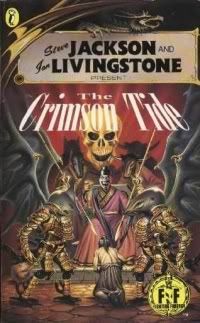 By now the writers of FF were obviously either getting a bit bored with the old formula or feeling more confident with it - either way, The Crimson Tide feels more ambitious and less down to earth than most gamebooks.
You begin the book aged 13 years old, with skill and stamina rolls found via dice rolling without modifiers; and as you age, your scores improve, but your ferocity decreases (just like any self-respecting punk rocker).
Hell, the book's trying so hard to set itself apart, two or three paragraphs in you could be facing an enemy of skill 12 with yours potentially at one.
It's a huge blunder (apparently of the editor's doing), but not surprising in a book full of random deaths and other, less bloody failed endings. 
So - you begin as an Asian (lets not kid anyone here - rice fields, monasteries, vague references to the 'east', the 'Crimson Tide' being a colour and a euphemism away from 'Golden Horde' not to mention the cover, come on) tween whose family is killed by a marauding group of bastards (whom, going by the illustration on page one commit
hara-kiri
by stabbing themselves in the head), and you decide to get revenge. Eventually - it's obvious with the lowest starting skill and stamina in FF gamebooks that you're not going to avenge anyone right away. Despite this, if you don't face the invincible worm, you're soon nabbed by a guy who for the next two years trains you in the art of arena fighting - muchly helfpful for the stamina and skill, of course. 
The first enemy I have to face robs me of two skill points, and realising this is no way to avenge my father's death and rescue my mother, I escape by doing a reverse streak into the crowd, eventually falling out of the stadium onto a hot dog stand and escaping by stealing a horse - luckily despite the 'eastern' setting, there's no honour score to keep track of!
Instead the author makes you take notes on certain actions you've done, which can repercussions down the track, which is pretty cool.
Anyway, I soon stumble upon the bastards' camp, and they don't recognise me at all. I find the leader, and yep, it's the guy who killed my father. Starting a fight here would be suicide, so I tell him I want to join, and he laughs at me. Damn it.
A new plan is needed, so I wander out, south, and arrive in a town where everyone treats me suspiciously. Being 15, I'm not sure how I ended up fighting a drunk in a bar, but it eventually led me to a barber who told me of a rebel group meeting that night. Again not sure what relevance this had to my mission, I decided to go anyway.
So do 50 others (so it's obviously not some half-arsed socialist club, then), and they're soon whipped into a
Hammerskins
-esque frenzy so I sneak out. I like
The Wall
movie, but nah. I'm only 15!
I wander on for weeks without an increase in stamina, carting around the same three provisions I've had since stealing a 'roasted meat stick' from the meat cart, and soon bump into a 'puzzler'. These clowns wander the countryside asking people questions, and if you can't answer their puzzle, convention dictates you owe them a feed, or something equivalent. The text describes him as barely older than I am, but the illustration puts him at about 60. He asks me a differentiation maths question that sounds hard but once I start working it out seems easy, even without my
award-winning teenage maths skills
(couldn't do differentiation now, mind you). 
But amusingly enough, if you turn to the page you're meant to if you know the answer, the puzzler just assumes you are right and wanders off...! You don't even have to know the answer, which is funny, cause I never did work it out - I quickly realised I could if I had to, the long way, and turned to the appropriate page. 
*Maybe Spoiler If I Did It Right*: the formula is days=(2x)-1, where x=the height.  I think. It's been a long time since I needed maths...
A year passes, and I arrive in the capital, Shoudu. This part of Allansia, or wherever it is, is obviously larger than Japan. I queue up to see the God-King, whose servant takes me aside and pretty much tortures me to death. Err, wut?
The book's premise is not entirely original, but the writing is good, the openness of the adventure feels good, and even running into the supposed lead bad dude early on is a twist I didn't expect; but the seemingly inhospitable nature of the gameplay is a turnoff. It just seems so damn hard. 
But still, one that seems like a replay would be worthwhile, and give a return perhaps even greater than the first attempt.
Happy new year!